The beauty of the iOS platform and Apple's App Store is that game development isn't left to the big design and development firms any more. Small developers that are independent of massive firms can make daring, amazing games that can follow current trends much more quickly than a big firm could ever hope to do.
What this means for customers is beautiful games that offer unique, creative game play and are bound to keep you coming back for more. In the current App Store ecosystem, games tend to stay in the top charts for much less time than they previously had. This means higher turnover and a need for new, inventive games that don't follow trends, but create them.
In this post, we look at the top 20 Indie iOS game developers and the basics of what makes them so special. This list is in no particular order, as it's nearly impossible to rank such unique developers.
1. Atebits 2.0
Anyone familiar with the iOS App Store should remember atebits. This company, known for making "suspiciously simple software" made the app Tweetie that Twitter would ultimately purchase and turn into the widely-used official Twitter for iPhone app.
Jump ahead to October 2012, atebits was re-founded as atebits 2.0. The first app from the re-founded company was a game called Letterpress. This Game-Center enabled word game allows for play with friends and a clean, simple interface. So, from indie, to purchased, to indie again, atebits is fresh and ready to come out with even more fresh games and apps.
Design and a focus on social connectivity make atebits a real contender in the game industry once again.
2. Halfbrick
Halfbrick started their life in 2001 in Australia making a few small, simple games that quickly grew them to be on the forefront of the Australian game development industry.
While leading the way in a country is great for any indie company, the success of Fruit Ninja on the iPhone and iPad led Halfbrick to be one of the most well known indie game developers in not only Australia, but also the world.
With board games, plush toys, and an awesome lineup of indie games, Halfbrick looks to be sticking around for a while. The secret to Halfbrick's success is clean, accessible design and a focus on re-playability.
3. BitMonster
The founders of BitMonster are no strangers to the development world. These six senior developers are all originally from Epic Games. The guys from BitMonster share the belief that most indie developers have that a small, agile team of developers can make magic happen.
With a short list of games (three at the time of writing this) BitMonster places more focus on quality and updates to current games than touting a long list of apps and games. This list includes the game THRED, a game of which all proceeds go to the Global Fund to help eliminate AIDS.
The secret behind BitMonster is the experience in the industry the founders bring to their independent company, along with dedication to realistic graphics and simple controls.
4. Semi Secret Software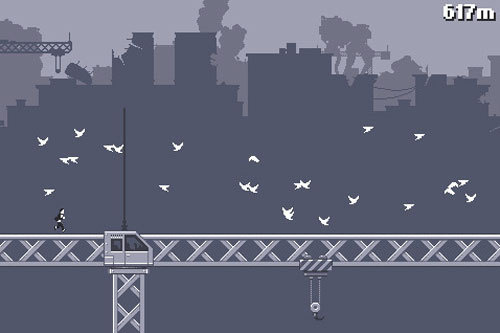 The folks at Semi Secret Software are just about as indie as it gets in the game world. A team of four that makes a fairly long list of games keeps things simple to get players coming back for more. While their name doesn't ring a lot of bells with iOS game players, their games will definitely look familiar. The release of Canabalt in 2009 helped to reinvigorate the auto-runner genre with a blast. Simple graphics, quick, infinitely repeatable gameplay, and amazing music all come together to make this game a real winner.
Their latest release, Hundreds, is insanely addictive and at its heart, truly simple. With a focus on re-playability and level completion, Hundreds is a game bound to stay active in the App Store.
Semi Secret Software keeps things small and brings a real focus to the music in games to get players interested in their games.
5. Vlambeer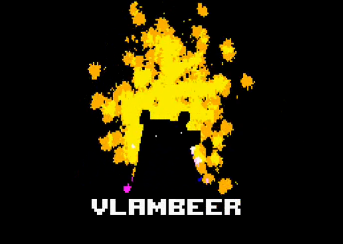 Started in 2010 by two friends that dropped out of college for game design, Vlambeer is best known for arcade-style games such as the addictive Ridiculous Fishing and Super Crate Box.
This team of game designers focuses on retro-style games that have a cartoon edge to them. While Vlambeer stays true to its indie roots, recent releases have given them the ability to scale their design beyond the 2 founders, even after one of their games was cloned and released alongside their iOS version.
The secret behind this design firm is a ridiculous attention to detail and dedication from its founders. They stay true to the retro style that built them into the powerhouse they currently are, which keeps players coming back for more.
6. Andreas Illiger
This German-born designer is also a member of the #1 spot club in the iOS App Store. Andreas Illiger is a self-taught designer who has studied graphic design and communication, which helped him to design the beautiful game Tiny Wings.
Illiger is a great example of an indie game designer coming out of nowhere and making a game that has sold an amazing 5.6 million copies.
The secret behind Illiger's success is his eye for design, typography, and attention to details like the smallest sound effects to the colors and music used.
7. Tribute Games
Much like many other indie game developers, Tribute Games was started by three ex employees from a major firm, this case being Ubisoft.
With a focus on pixel art and classic games, Tribute Games keeps their list of games short so they can fully support the ones they release. Currently they have one offering in the iOS App Store with Wizorb.
The secret behind Tribute's success is a focus on the style of games the developers love. This is what makes indie game designers so great; their ability to make the games they want, not the ones the big bosses deem good.
8. Riverman Media
With more than eight years of experience in the indie game design field, Riverman Media know what it takes to make a great game. One of the founders, Jacob, was quoted as saying:
"We approach game development with the same sense of inevitability that we do eating and sleeping!"
This shows why they have been around for as long as they have and been as successful as they are.
With a focus on 2D game creation and a promise to stay small, independent, and self-funded, Riverman Media's secret to success lies in the dedication of the founding brothers and a focus on fast, fun gameplay.
9. Simogo
The Swedish indie game designers at Simogo started designing games in 2010 with only two employees. Today this team continues to rock new games and stays small and agile with the original two founders.
Currently, Simogo offers four games for the iOS platform that have a very art-centric focus. The unique art and corresponding gameplay of their games makes for a unique experience that not only allows for a crisp gameplay, but pleasing and interesting graphics throughout.
The secret behind Simogo's success is clear once you play one of their games. The attention to detail is apparent immediately with the soundtrack, art, and solid controls in each offering.11.
10. Uppercut Games
With a combined 38 years of game design experience, the three founders of Uppercut Games seem to have a one-up on the competition with their history in the field.
Their flagship game "Epoch" has over one million downloads, giving them a level of credibility in the crowded iOS game design field. Small, independent, and a proven track record give Uppercut Games a solid place in the iOS App Store.
Uppercut's secret seems to come from the experience its founders have to offer. Having worked on huge-scale games like Fallout and Bioshock, this Australian design firm seems to have what it takes to stay small but carry a big app.
11. Capybara Games
The guys over at Capybara Games like more than the huge, cute rodent their name hails from; they also love making great games. Started in 2003, this indie design firm has been making headlines with their beautiful; game Sworcery.
More than one million copies of this game have been downloaded, with over 50% of those on the iOS platform.
Capybara games have garnered more than their share of awards, including multiple IGN awards as well as a few Canadian design and gameplay awards.
Capybaras secret isn't too much of a secret. With ten games currently, and more on the map to be created, they hold a high rank in quality game designers in the app store, not just counting indie firms. Quality games and a focus on graphics and gameplay give them the skills that will keep players coming back for more.
12. Crescent Moon Games
Crescent Moon Games was founded in 2009 and currently boast over 20 titles available in the iOS App Store.
The Crescent Moon team focuses on fantasy and roleplaying games to keep players entertained. They have ventured outside of this system, however, with the release of games like Redline Rush, Monkey Boxing, and Slingshot Racing.
The secret behind Crescent Moon's success is dedication to quality games and a robust catalog of games. With at least one game that most every player is bound to like, Crescent Moon is a sure bet for a great indie game firm.
13. Iddiction
Iddiction is somewhat of an odd company. Not a lot is known about them, mostly because they are in "Stealth Mode" as the CEO Andrej Nabergoi says. What we do know is that they are behind a few pretty great apps and games on the iOS App Store currently.
With their fast and fun side-scroller Major Magnet, they show that Iddiction is a contender in the indie game development world. They round out their portfolio with simpler games like Bubble Fins and fun apps like Face Bomb! and Clipchat.
The secret behind their success seems to be in the funding that Nabergoi has secured from some pretty heavy-duty VC firms. This shows that backing money can be important while doing your best to stay independent.
14. Rocketcat Games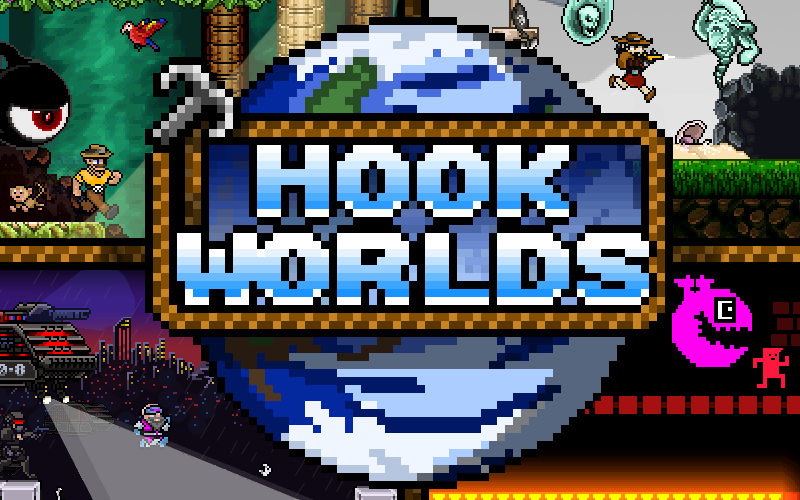 Keeping it small is what Rocketcat Games is all about. This team of three developers is making some pretty cool 8 and 16-bit graphic games. Their name comes from the first game they ever created, which they really loved, so it stuck.
Where this team is unique is that they have never met in person. Each works from a different state in the United States, all from their homes. What they lack in personal meetings they more than make up for in skill. All are self-taught and bring skills from other fields into indie game design.
Their secret is in their dedication to the classic game market, keeping games simple yet engrossing, all while keeping them fun. It is a hard mix to master, but Rocketcat seems to do it well.
15. Terry Cavanagh
While not as prolific of a developer as other sin this list, Terry Cavanagh is a very talented developer that recently released his first game for the iOS App Store. Super Hexagon is a fast-paced, mesmerizing puzzle game that looks simple on the surface but soon becomes intense and challenging as you play.
Terry's secret to game design is doing what he wants and making games he would want to play.
16. Defiant Development
Based in Brisbane, Defiant Development is a game development firm filled with veterans of the game design and development world. Along with their catalog of games, Defiant takes on contracted work a few times a year for clients such as Qualcomm and The Dallas Mavericks.
Their most popular game, "Heroes Call," brings a beautiful RPG-style game to iOS. This free game, paired with the even more beautiful "Hand of Fate," a card-based RPG for iOS, gives Defiant a catalog of games that while not large, is impressive in its complexity.
Defiant Games' secret to success is a focus on RPG-style games that engross the player into the work created inside the game. Put this together with some of the best graphics seen on an iOS device today, and you have a solid indie game developer.
17. Playdead Games
Playdead games is the publisher of the dark, almost disturbing game "Limbo." This game is a great example of what the team at Playdead is capable of. It takes some very skilled developers to make a game that is totally black and white that can be this engrossing and gorgeous.
The 2D styling of the game helps to place a focus on the story as well as the gameplay. This seems to be the driving force behind the choices Playdead makes.
The secret with Playdead games seems to be their ability to keep graphics simple while making them look beautiful. A focus on gameplay and game flow paired with the simple yet outstanding graphics makes Playdead Games another great Indie game developer.
18. 2D Boy
The American independent game developer 2D Boy was founded by two former Electronic Arts employees to give them more freedom and to help them realize their dreams of game design and development.
The guys at 2D Boy's first game is World of Goo. This game, which is centered around construction using little balls of goo and the physics tied to this, is a beautiful and fun game that showcases the types of games the founders want to make. Clean, simple, and easy to understand all while being challenging and re-playable, World of Goo is a solid first offering.
The secret behind 2D Boy's success comes from their eye for design and their combined experience. Working for a firm as large as EA means you probably know a few things about design and development. These skills help them make it big in the iOS App Store.
19. Hemisphere Games
The founders of Hemisphere Games hail from some of the biggest names in professional game development. With firms like Ubisoft and Epic in their list of former jobs, this indie game firm stacked the cards in their favor well before their first game was even released.
The physics-based game Osmos is the flagship game from Hemisphere. This game showcases the team's focus on visuals n a game. The laid-back, relaxed feel of Osmos is what makes it a killer game for iOS.
Hemisphere's secret is a consistent look and feel throughout the games they make. As is seen in Osmos, a chill, ambient feel is seen throughout the game. Even in times of conflict, that feeling is still seen. It is this cohesion of feeling that makes Hemisphere great at what they do.
20. Frogmind
The last game in this list of top 20 developers is one of my favorite games made in this list. The indie game studio Frogmind was founded in 2012 and already has one of the most popular and beautiful games in the iOS platform. Their game, "Badland," is an atmospheric side-scroller with a focus on unique gameplay and physics, while giving eerie, memorable music and sound effects.
Frogmind pays a great deal of attention not only to gameplay, but also to the environment the game play is happening inside of. Everything from their choice in music to colors to how the controls work all combine to give an overall feeling of completeness.
Frogmind's secret here is in their attention to detail. The background of their first game has more detail than you will probably notice on the first play-through, while power-ups, sounds, and controls all mesh to keep the game interesting. If Frogmind continues to give every game this level of detail, they will definitely continue to be starts in the indie world.
Wrap-Up
Well, that does it for this list. There are far more than just 20 indie game designers out there, and way more than 20 of these lists that could be made.
These indie developers are in no particular order, since once you start ordering things like this; you start turning people off if their favorite isn't number one. Think of this as a top 20 without any order.
Support indie games and developers like those listed above. These folks want to make the best product possible and many times this is best done without a huge company overlooking what you are doing, unwilling to take a risk.
Indie game developers love risk, and they love making unreal games that amaze and entertain.